Creative Director. NFT Artist. Educator. Edutainer.
Unknown Track
-
Unknown Artist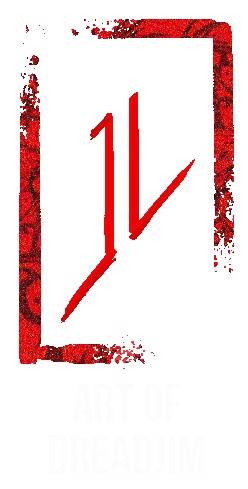 Get Connected.
NFT+METAVERSE DESIGNER.




CHARACTERDESIGNS. ILLUSTRATIONS. ENVIRONMENTS.
Featured Art Cyberpunk 1 against the world
1050 Projects and unique commissions completed and ongoing since 2005...
1/2
Commissions Open. Studio Ready. Creation Begins.
Please email me at Dreadjim@gmail.com for rate card and prices.
We are always building long lasting relationships and excellent communication and the best artworks since 2005 suited to every unique client's budget and style.
​
Specializing in NFT and Metaverse creations, we are working together with SPACE EAGLES TECH since 2022 to take in projects ranging from small to large scale requirements, A-Z production to launch and beyond. Contact us today.

We are ready to serve you in a variety of ways including personal commissions, assets for game studios, animation and film industry with some of the most reasonable and affordable rates.
​
Some of our clients include:
​
​
Publishing
ImagineFX
TIME
Vampire Art! Now
MDA
Dungeons & Dragons
Heaven's Wars
Qaliba TV
Corel
John Thomas
Succubus Tear
Dragon Scale Publishing
Helix Reel
Games/Film/Animation
Virtuos
DSTA
G-Gadget
Nexgen
Envisage Reality
Protege Production
Zynga
Helix Entertainment
Alderac Entertainment Group
Black Void Games
Omegacom
Zizagames
Wulven Game Studios
Imagining Games
James Cole
King Dinosaur Games
Camelot Hobbies
Games Knight
Qaliba TV
Print & Advertising
Singpost
Singapore Game Expo
Games Convention Asia
Singtel
HSA
Marie France
Wacom
Lenovo
大韩天下 (Beijing)
OMD Advertising
Palladine
MDA
Fancl
Svensons
Mitsubishi
Thorsten
Mages Institute
Mentoring. Groups. Solo.
Besides creation of arts and consultation roles fulfilled to clients, we also believe in giving back to the society by offering several modules that are affordable and versatile including:
​
Solo mentoring of portfolios for students/artists.

Resume preparation for higher education and roles.

Recreational learning of the arts.

Training of fundamental concepts of the arts.

Training of advanced concepts of the arts.

Training of providing work, freelance contracts and building connections across the globe.
​
Please enquire at Dreadjim@gmail.com for physical onsite classes, solo tuition classes if you want to go beyond the online education.