Creative Director. NFT Artist. Educator. Edutainer.
Unknown Track
-
Unknown Artist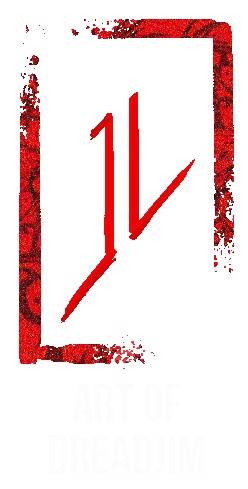 BFA. Entertainment Design, Aspen Uni
AA, Illustration, Academy of Art, SA
The Multiple hats of Dreadjim




NFT+Metaverse Creator
Illustrator
Concept Artist
Educator
Writer
Edutainer
Art & Creative Director
Managing Director
Entrepreneur
'Art'vangelist
Actor
Loves- family and loved ones, his shibas, games, basketball and God.
Jim Ling aka Dreadjim sparked off with a humble diploma in Digital Media Design and started off an art director in the advertising industry for a year, then moved on to his own design company freelancing for various names in the industry since 12 years ago. He now heads Lionheart Studio as a Creative and Managing Director, overseeing the multiple paths and responsibilities since 2017.
Some of his clients and works he had produced for include Mitsubishi, Ministry of Transport, Singtel, Singpost, Fancl, HSA, Singapore Gamer's Association and many others. Besides creating commercial graphics in the industry, Jimmy has also created illustrations and concept artwork for various companies including art houses overseas in Beijing, as well creating 2D art assets for companies under 3rd party art agencies like Virtuos (Naughty Dog, Square Enix,ILM and so on).
​
His artworks have been published in events since Singapore Game Expo 2006, Games Convention Asia 2008,Orchard Central Mages Event 2011,as a featured artist in MDA 2013 brochure to ImagineFX Digital Art Magazine 99th Issue and VampireArt Now! Artbook etc. His latest achievement is winning the Wacom Master Artist transnational competition involving Singapore and Taiwan. https://www.facebook.com/MSPchallenge/
He specialises in combining Classical foundations in art with Entertainment design to create exciting content and a unique, spontaneous style of education-- highly potent, effective and easy to understand -- to the next generation using art theories, practical application and demonstrations in real-time.
Education
Being self taught since the age of 4 til 21, that didn't stop Jim from pursuing higher education and to achieve a Bachelor of Science in Fine Arts degree in Entertainment 2D Design from Aspen University, Colorado, in conjunction with The Art Department and ConceptArt veterans,as well as an Associate of Arts degree in Illustration from Academy of Art, San Francisco in order to understand the world and Art better- to be able to impart all theories and guidance properly for educating the new generation.
Services: Art Direction, Education (Private and Groups) in Fine and Digital Arts, Illustration and digital artwork commissions and Fine Arts Commissions.
He is the founder of Lionheart Studio, as well as leading Art and Creative aspects as the Creative Director at Space Eagles Technology, overseeing projects related to NFTs and metaverses to bring them to life and to pursue a collective consciousness of this digital era.
To date, Lionheart studio has had corporate dealings with top companies such as Wacom, Tudor Watch (Rolex Group), OldMutual, Amazon, Aviva, Prudential as well as various agencies and companies dealing with entertainment media such as Animation, Game design and Film production.
Lionheart Studio is also a Wacom Retailer as well as KCK distributor for traditional arts and supplies. The company also conducts regular MOE school workshops and training in different sectors, as well as charity related workshops empowered by Art.
​
In his free time, he is working on a vision and dream, The Rapture:End of Days, an IP set in the modern times, filled with fantasy and sci-fi elements about a possible world inspired by the Bible and many other sources.
He is also creating a series of video tutorials as well as resources that will help and guide new beginners to get good at art, as well as give a fast track to those who are already practicing or have a passion to go into illustrations/concept art.
He plans to collaborate with other artists to aid all parties in the series of videos and this resource will be called the Vault.
​
Publishing
ImagineFX
TIME
Vampire Art! Now
MDA
Dungeons & Dragons
Heaven's Wars
Qaliba TV
Corel
John Thomas
Succubus Tear
Dragon Scale Publishing
​
Games/Film/Animation
Virtuos
DSTA
G-Gadget
Nexgen
Envisage Reality
Protege Production
Zynga
Helix Entertainment
Alderac Entertainment Group
Black Void Games
Omegacom
Zizagames
Wulven Game Studios
Imagining Games
James Cole
King Dinosaur Games
Camelot Hobbies
Games Knight
Qaliba TV
​
Print & Advertising
Singpost
Singapore Game Expo
Games Convention Asia
Singtel
HSA
Marie France
Wacom
Lenovo
大韩天下 (Beijing)
OMD Advertising
Palladine
MDA
Fancl
Svensons
Mitsubishi
Thorsten
Mages Institute
​
Education & Edutainment
SGGA
Lenovo
Paya Lebar Mall
Doujinma
Rise & Shine
OldMutual International
Tudor Watches
WIT Conference 2017 (SG)
Wacom
MOE Schools (Primary & Secondary)
Singapore Polytechnic
Mages Institute
ITE
Hadiprana (JKT)
International Private Schools
Lionheart Studio
​
Accolades
Wacom Master Artist 2017
Corel Top 3
DeviantArt
​
Gimme a shoutout if you follow from my page!:D
Donate or Support the Cause!