Creative Director. NFT Artist. Educator. Edutainer.
Unknown Track
-
Unknown Artist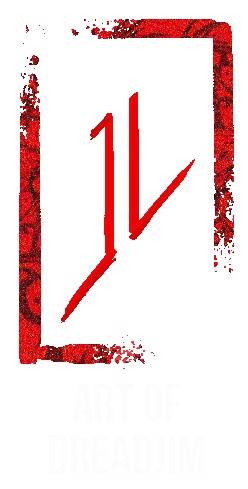 FOUNDATIONS IN CONCEPT ART
On Site Classes with equipment, software and materials all provided.
LOCATION AT: Havelock 2, #03-08
COURSE BREAKDOWN DETAILS
(8 lessons, 16 Hours, Saturdays) : Upcoming Schedule Please enquire Dreadjim@gmail.com
​
ONLINE COURSE: $800 Delivered via Skype Realtime, Lecture and Demo as well as Feedback, correction of students' work and homework.
'STUDENTS BEFORE' SAMPLES( Students come from wide variety of backgrounds including ZERO experience as well as some experience in digital art)
'STUDENTS AFTER' SAMPLES
CONTENT (All artworks here by lecturer and students)
Class 1: Introduction to Digital Art and preparation for the workshop
This class will run students through the knowledge of all kinds of digital art in the industry and the methodology to create them. Students will do a series of drawing in pencil to show their capability and aptitude so that the Instructor can scale to their level of learning. Basic Drawing techniques and the 5 value system will be run through quickly with the class.
By the end of this module, you will be able to:
Learn how Digital Art including concept art and matte paintings are created

Know what are the tools and tips and secrets on how to speed things up

Refresh ( or Learn) about the basic 5 value system that we are going to use

Understand what digital art is and what is needed in the workshop
Class 2: Basic Perspective , Light and shadow and the 5 value system
In this class we will learn about value and the structure of light and shadow. We will use the knowledge we gain to apply realistic form to the basic shapes we studied in the first module. The idea of light and shadow is the foundation to all visual imagery, so the understanding of this subject will have a profound effect on the success of your drawings. This module will be the beginning of our journey into rendering the illusion of volume and space. We will also review the basic concepts of perspective, such as horizon line, convergence, and diminution. We'll discuss the concepts of one- and two-point perspective further in depth. In this module's assignments, you will practice drawing objects and environments in accurate one- and two-point perspective with the use of the horizon line, vanishing points, and convergence lines. Additionally, we'll go over three-point perspective and atmospheric perspective
By the end of this module, you will be able to:
Understand the relationship between objects and the horizon line.

Observe, analyze, and apply the rules of perspective to objects and environments.

Draw objects and environments in one- and two-point perspective.

Understand the concepts of atmospheric perspective.
Class 3: Human and Creature Structure
In this module, we will learn and refresh ourselves with the anatomy of the human and creature/animal body types that will serve us well in the following classes. We will also learn about the ideal and correct proportions of the human figures, and how to exaggerate them to different effects in concept art. This module will help us better understand how to create realistic human/bipedal types which will help greatly later in our character design. We will also look at a few animals and how to draw them realistically. This class will be done on either paper or the computer.
By the end of this module, you will be able to:
Be familiar with human/bipedal archetypes and know how to draw them.
Understand the importance of good body structure and how to correct mistakes

Identify the bones and how muscles wrap around our stick figures.
Understand the proportions of the human figure including the lengths, sizes and widths of the general forms

Build upon the concept of the mannequin frame using basic shape construction

Learn how to use the same bone stick figure concept on animals and how to draw animals using the same technique.
Class 4: Character Concept Development and background creation
In this module, we kick off on the exciting part of this workshop - creating awesome characters and basic backgrounds for them. We will begin by understanding what makes a character concept ticks and what not. We will learn to be able to understand what we seek to create through research on the subject matter, and also on creating a believable character with a compelling story. We will create the character either on paper or directly in the computer and finish with a suitable background.
By the end of this module, you will be able to:
Learn about good and bad character designs.

Learn about silhouette proofing and balancing design

Create logical, believable background stories that helps elevate the character

Learn to create a proper background that enhance our character design
Class 5: Methods to create Concept Art
In this module, we will introduce different ways of creating character concept art that range from Speed Painting, line art, anime and realistic styles which you can incorporate into your next assignment. We will understand how to create thumbnails which will lead into polished pieces later on. We will learn about how artists use custom brushes, photographs, 3D renders etc to create different types of imagery. We will also examine and learn how to apply textures to our concept art in speed and efficiency.
By the end of this module, you will be able to:
Learn how to speed paint

Learn how to create Lineart to coloured paintings

Learn how to create anime style art

Learn how to paint in a realistic way using the tablet

Learn about custom brushes and how to use them to suit your art

Know how to apply textures and what effect they have

Understand the speed and efficiency when it comes to creating concept art thumbnails
Class 6: Character & Creature Concept and Design
Now that we have covered all the basics of drawing, we are going into the fun part- Character concept, where we start to create our own hero, robot, monster and such. In this module we will learn all about character design and how to effectively create them and avoid bad design issues. We will also cover some basics of creature design and how to apply all that we learned into making them.
By the end of this module, you will be able to:
;
Know what is a good character design vs a bad one

Apply all you have learnt to create a unique character

Learn Topics of character design such as silhouettes and how they apply to your design

Apply these techniques to drawing.

Tweak and modify existing creatures to create unique concepts

Different character types including organic, robotic or hybrids,

Create concepts that are aligned to your imagination and clients' request.
Class 7: Matte Painting for concept art
In this exclusive module we learn about matte paintings, a skill that is becoming highly sought after in film, media and games industry. Matte painting is all about creating epic scenes and environments with elements of photographs, textures, 3D renders and good composition. We will learn how to create a simple matte painting, and how to incorporate atmospheric perspective depth into it. This background can then be cropped and merged with our character design later.
By the end of this module, you will be able to:
Learn how matte paintings are created

Know about the right ingredients and techniques to create successful matte concepts

Learn how to transit from a speed paint into the matte painting

Create a interesting matte painting with good composition, lighting and depth

Learn how to merge concept art,characters and creatures into any matte painting
Class 8: Combining concept art and matte painting
In this last module we learn how to further merge our concept art and matte painting together with realistic proportion, colour correction and perspective correction. We will learn how to use paint to create awesome special effects like glow, rays of light, darkness and so on to narrate and improve our final art. This final art piece will be the ultimate culmination of all aspects that the students have learnt, and in this module's last part, students are able to enquire further questions on doubts with skills or to improve their knowledge.
By the end of this module, you will be able to:
Learn about powerful tools in Photoshop that can help merge the elements

Know how to colour correct, align concept art to right perspective and so on

Create amazing effects with just a few tools and brushes

Learn about masking and focal points and how to enhance them

Polish up their art pieces using techniques that is applicable to most

other art forms
By the end of the workshop, students will be able to achieve:
Core mastery of skill-sets to create concept art and backgrounds from imagination

Knowledge of important core concepts that is essential to concept art

Learn all the intricate points of character design which is used widely among animation, media, games and even film industry

Practical skills and knowledge that is the precursor and core of some universities on said subject

Powerful skills in creating concept art, environment and matte painting using a series of simple tools and knowledge in Photoshop

Knowledge of the illusion of depth and how to apply them in environments

Composition, Lighting and Perspective techniques that is used in many other various art/art-related forms

Average to semi-professional level knowledge, presentation and skills in this industry

Good 2D art skills and proficiency in Photoshop

Great advantage and edge over other students in animation/media/games/film/visual effects schools
9409b07d-dfa1-4cf2-a888-350fb6e19061
12045197_540870776068664_8282914765261065165_o
12028782_749919168475344_942052984585670036_o
12028716_540859756069766_8904654577832705239_o
11200797_808536445898806_1572910764056256704_n
1233115_1425988947627393_1620360414_o
893144_560925147271539_1480917583_o
ENQUIRE NOW/BOOK SLOT NOW!